Haunted Houses in Missouri
The state of disrepair that this home is in had initially alarmed you. After a few moments of relative quiet, however, you were willing to bet that the Haunted House was not as terrifying as it was made out to be. But all sense of peace was thrown out the window when that blood-curdling scream echoed across the home. In attempting to discover the source of that cry for help, you accidentally got sucked into a trap that the maniacal homeowner set up. Now you find yourself in a pitch-black basement accompanied only by the sound of your breathing and footsteps. As you stop to catch your breath, you notice that the sound of footsteps did not stop when you did. You are not alone after all and you're probably not going to like who, or what, lured you down here...
---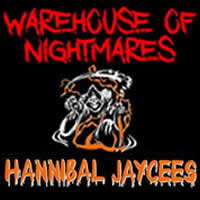 Hannibal Jaycees Haunted House
Hannibal, MO
Somewhere in an old warehouse in downtown Hannibal, something terrible lurks in the shadows… Following passersby with malevolent eyes from behind cobwebbed windows, and waiting… for blood. Do YO... Read More
---
---
Large metropolitan areas and a wide array of small towns allow haunted attractions to pop up in every corner of Missouri. Since locating all of the ones you'll want to visit can be a challenge, HauntedMissouri.com's interactive map was designed to aid both longtime residents and tourists. Find your next favorite haunt or plan an evening that may even feature visits to multiple haunts.