Zombie Paintball in Missouri
There have been unverified reports that St. Louis has already fallen and Springfield is slowly losing ground. Kansas City is almost entirely overrun and small enclaves of survivors are just waiting for the inevitable. Before the night is over, Missouri will almost certainly be dominated by brain-eating zombies. That is, unless you have something to say about it. Armed with a paintball gun and surrounded by your closest friends, you are not about to watch your state's cities and towns crumble without a fight. You're going to need to work together and think quickly if you have any chance of fighting off the walking dead. If you let your deepest fears take over, though, you can bid farewell to civilization as you know it.
---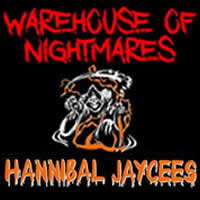 Hannibal Jaycees Haunted House
Hannibal, MO
Somewhere in an old warehouse in downtown Hannibal, something terrible lurks in the shadows… Following passersby with malevolent eyes from behind cobwebbed windows, and waiting… for blood. Do YO... Read More
---
---
Large metropolitan areas and a wide array of small towns allow haunted attractions to pop up in every corner of Missouri. Since locating all of the ones you'll want to visit can be a challenge, HauntedMissouri.com's interactive map was designed to aid both longtime residents and tourists. Find your next favorite haunt or plan an evening that may even feature visits to multiple haunts.